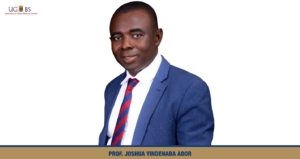 Allianz has appointed Professor Joshua Yindenaba Abor as Board Chairman of Allianz Life Insurance Company Ghana. His appointment as an Independent Non-Executive Director was approved by the National Insurance Commission in August 2022. As a director, he has a tenure of 5 years, but his role as board chair has no expiration. He takes over from Mr. Kofi Ampim, who passed away in January 2021.
The CEO of Allianz Life Insurance Ghana, Mr. Gideon Ataraire, stated in a brief interview that Professor Abor is a good fit because of his invaluable expertise in corporate governance, in-depth knowledge and understanding as a financial economist with significant financial experience, and indispensable expertise in development finance, economics, and research. He mentioned that Prof. Abor's proven track record in building capacity, his extensive business knowledge, ability to lead successful teams, and track record in finance and insurance with an emphasis on profitability make him a great addition to the team.
Professor Abor is a financial economist, a qualified accountant, and a Professor of Finance with many years of expertise, mainly in development finance and economics research, as well as in senior-level practitioner, policy, and consulting roles. He is a former Dean of one of the largest business schools in Africa – the University of Ghana Business School (UGBS). He is transformational, very innovative, and is described as showing bold and visionary leadership. His actions as Dean were tremendous in repositioning UGBS as a strong brand in the African business education market. He has extensive board experience, having served on the boards of companies in investment banking, capital markets, insurance, hospitality, and manufacturing.
He is also a Director and Senior Consultant with the Corporate Support Group and has consulted extensively in finance, banking, development finance, financial markets, and development initiatives for a number of international and local institutions. He is a member of the Bank of Ghana's Monetary Policy Committee.
Professor Abor is an External Fellow at the Centre for Global Finance, SOAS University of London, UK, an Adjunct Professor of Development Finance at the University of Stellenbosch Business School, South Africa, and a researcher with the African Economic Research Consortium. He was a Visiting Professor of Finance at the University of Cape Town, South Africa, and has also held Visiting Scholar positions at the International Monetary Fund (IMF), in Washington, DC. He is a member of the American Economic Association, the Canadian Economic Association, the Economic Society of South Africa, and a Fellow of the Ghana Academy of Arts and Sciences.
He holds a PhD in Finance from the University of Stellenbosch in South Africa after completing the PhD coursework (Financial Economics) at the Department of Economics, Harvard University, United States. He is also a Fellow of the Association of Chartered Certified Accountants (FCCA), UK.
In his role as Board Chairman, Professor Abor brings a wealth of experience to the board of Allianz Life. Allianz Life Insurance Ghana is part of the Allianz Group, which is one of the leading integrated financial services providers worldwide, operating in more than 70 countries. In Africa, Allianz is present in 17 countries and accompanies clients in 39 countries.
https://csg-gh.com/wp-content/uploads/2020/10/csg_logo.png
0
0
eawuni
https://csg-gh.com/wp-content/uploads/2020/10/csg_logo.png
eawuni
2022-09-11 10:28:35
2022-09-11 10:28:49
Spotlight 1